FRANCHINI SPA more than 40 Years of experience, from our heritage we learn, the client first
Franchini Spa Servizi Ecologici is a well-established company with a long experience in the field of maintenance cleaning services for civil and industrial sewer networks and environmental consulting.
With over 40 years of experience behind it, Franchini Spa Servizi Ecologici is able to respond to different needs, whether they are related to companies, industries or institutions.
The wide range of services offered, strengthened by the great experience and know-how acquired over time, qualifies Franchini Spa Servizi Ecologici as a leading company capable of operating locally and nationally but also throughout Europe.
The main services
Franchini Spa Servizi Ecologici specializes in the following services
Maintenance cleaning of sewer networks and treatment tanks
Treatment with mobile plants of civil and industrial wastewater treatment sludge
Cleaning of anaerobic digesters
Cleaning of process tanks containing fuels with leak testing and gas free release
Pipeline remediation through operations from the inside and air and water tightness testing
Remote inspection, georeferencing and mapping of sewer and other networks
Transport, disposal and recovery of special waste
Italian excellence in Europe
Franchini Spa Servizi Ecologici was founded in 1976 in Alzano Lombardo, in the province of Bergamo. Over time, this reality has grown and consolidated, becoming one of the most important players in the sector. Initially a fundamental strategic point of reference for the whole of Lombardy, with the passage of time Franchini Spa Servizi Ecologici has established itself nationwide and today we speak of a reality capable of operating in Europe, thanks to the increasingly unique and specific services offered, which make it a company of primary importance for both quality and professionalism.
An important "plus" concerns some technologies that are designed and developed in-house. For example, the mobile plants used in sludge dewatering are designed and built directly by Franchini Spa's in-house technicians.
Each intervention is carried out by teams of highly specialized professionals in continuous training, personnel who are prepared in advance for the management of each possible context and equipped with all the appropriate tools. Also qualified to provide targeted environmental consulting to industries and companies, Franchini Spa Servizi Ecologici's technicians can offer all the support necessary for the management and handling of fundamental issues at 360°.
Franchini Spa Servizi Ecologici has a large fleet of vehicles and technologically advanced equipment capable of responding to every operational need, including emergency response and not only domestically but also abroad.
The history of Franchini Spa Servizi Ecologici unfolds through a path made of quality and progressive growth. The development of an environmental policy and ethics perfectly adherent to European guidelines has allowed the company to become a benchmark of Italian excellence in Europe.
Adhering to the tradition and teachings of founder Luigi Franchini class of 1900, Franchini Spa Servizi Ecologici embodies values such as customer care, honesty, spirit of sacrifice and dedication to work. The third generation looks to the future by evolving these values through sustainability and innovation projects: respecting the past, living the present, building the future.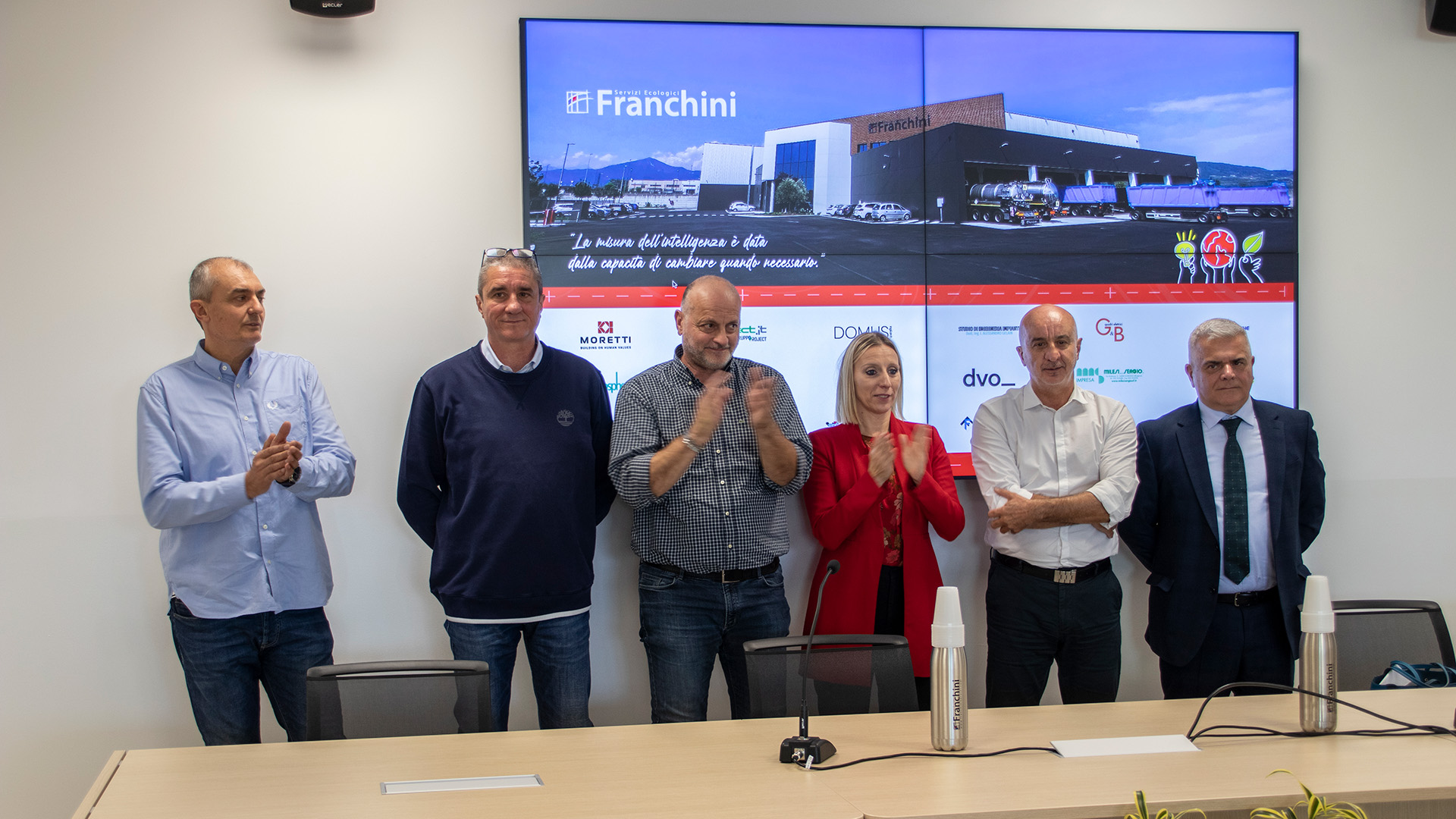 Filippo Franchini, Andrea Franchini, Gianluigi Franchini, Claudia Terzi - Lombardy Region Councilor, Stefano Franchini, Luciano Redolfi - Mayor of Bolgare